Henry is Molly's 4yr old nephew … who loves Fin. Fin wrote Henry an email today, read below: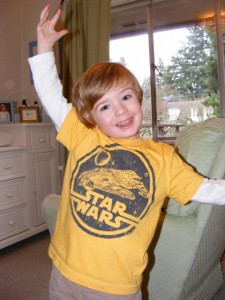 Dear Henry,
Today was a very special day for me. I received your Valentine, made especially for ME(!), in Mommy & Daddy's mail. Thank you so much for thinking of me on Valentine's Day! My Daddy (Michael) took pictures of me while Mommy (Molly) helped me open it. You can see them below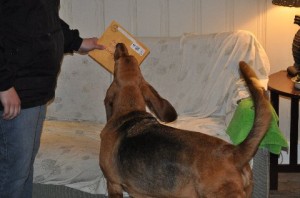 I am so excited this piece of mail is for me! Who could it be from?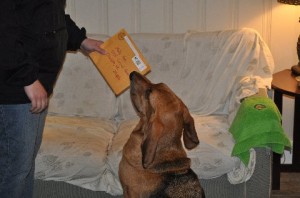 I even sat down like I do for cookies so Mommy would give it to me!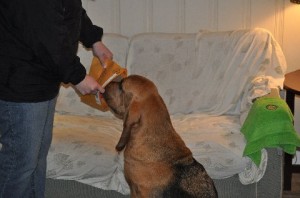 She opened it up so I could smell inside. I remembered you! I knew you sent me the Valentine b/c of your smell. Remember I found you and your Mommy when we played hide & seek at GranMary's?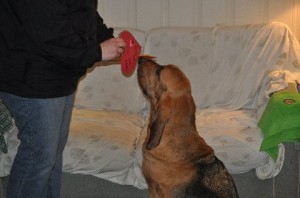 Me, looking and smelling the Valentine from you. It is so nice. You did such a great job making it for me!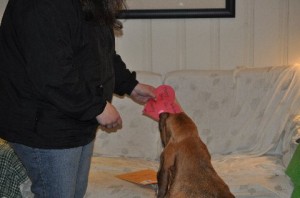 I even smelled the sticker you put on it!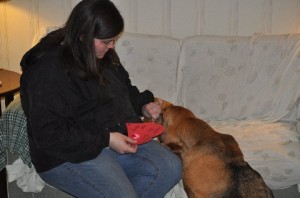 I had to double check you weren't hiding in the envelope b/c I could still smell your scent. You see, us Bloodhounds have very sensitive noses – the BEST of all dogs! I couldn't find you in the envelope so you must still be in Seattle. I hope I can see you soon!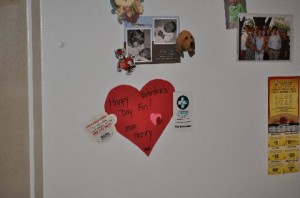 Mommy helped me put your Valentine on the 'fridge so I can see it – it's all mine 🙂
I sit very proudly by it – thank you again for thinking of me! I sure hope your Valentine's Day was a great one!
Love, Fin