CH. SHILOH'S ONCE IN A BLUE MOON
Date of Birth: 07.03.2000 – 01.27.12
Weight: 105 lbs.
Breeder: Claudia Williams (Shiloh Bloodhounds)
Health Info: OFA hips good, cardiac & thyroid normal
Owners: Sherry & Dick Duling and Molly & Michael Nye
Sire: BISS CH. Churchil's MoJustn of Sherick (Justn)
Dam: CH Shiloh's Class Act (Cassie)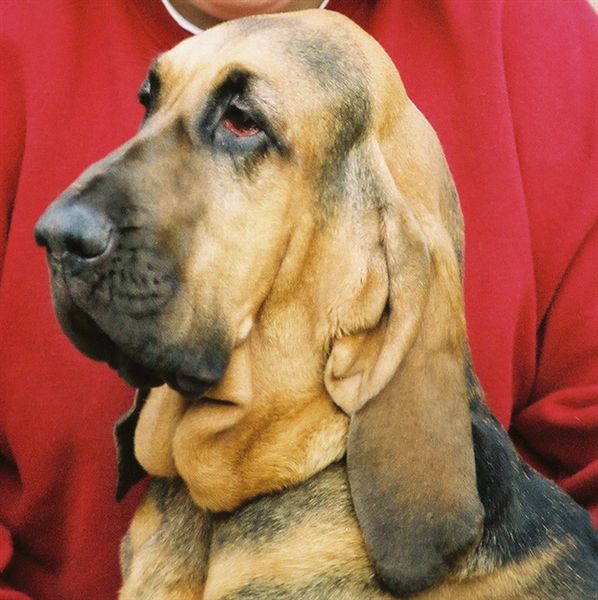 Zoomer 2003
"Zoom, Zoom, Zoom" was the Mazda commercial we always softly sang to this very special girl!
Although Zoomer lived in Kansas (
Sherick Bloodhounds
) full time, we did love her very much. I'm not sure there was anyone that ever met Zoomer who didn't fall in love with her. She was so special.
When she was a young adult, we were the folks who notified Sherry that she was available from
Shiloh Bloodhounds
and we transported her to Kansas to live with Sherry & Dick.
She had such a fantastic, easy to live with, personality and was smart as a whip which has shown through in her puppies. Zoomer lived to play ball and it was amazing to watch this girl 'spin on a dime.' She was also a toy nut and loved all soft fuzzy toys.
Zoomer produced four litters – two of which were whelped at M&M Bloodhounds, co-bred with Sherick's Bloodhounds. She produced champions, working dogs (including our singleton puppy Merit), and the first Bloodhound service dog, and American Bloodhound Club Meritorious Service Award winner – Sage (Sherick M&M's Heaven Scent, CD, RE, MT)
We always enjoyed the time we got to spend with her. To lose her was very tough on us all. Rest in peace sweet Zoomie girl …