SHERICK'S SWEET CARNATIONS
Date of Birth: 11.22.1999 – 03.04.12
Owners: Sherry Duling & Molly Nye
Health Info: OFA hips fair, OFA elbows, cardiac, thyroid & patella normal – CHIC
Sire: CH. Sherick's Gibraltr O'Churchil (Wally)
Dam: CH. Sherick's Return to Abbey (Abbey)
Carrie was another girl with a personality and disposition anyone would wish for! She was such a love bug and loves to be cuddled and snuggled with. Her favorite thing to do was to try to crawl up on your lap and kiss, kiss, kiss!
She is a full littermate sister to our Campbell. and Willie. which made her even more special to us. She lived in Kansas full time (Sherick's Bloodhounds). We did get to enjoy our time together during our visits out there!
Carrie had one litter and was an excellent mother. She produced another girl we co-own, Ginnie.
Carries loved babies, just like her mother Abbey did. She loved any chance to play with them, even if they are not her own!
We will miss you sweet girl!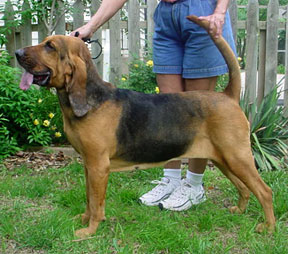 pictured at 3yrs