CH. WYCHWAY'S YELLO POLKADOT ZUCCHINI, MT, MTI, MTX, CGC/TDI
Date of Birth: 9.29.08
Weight: 105lbs
Health Info: OFA Health Information
Sire: CH. Wychway's Bilboa Baggins, RE, MTI – CHIC (Baggins)
Dam: CH. Nimansway Ared Wink'N Anod, RN, MT – CHIC (Sunshine)
Breeder: Betsy & Joe Copeland & Renee Wagner
Owners: John & Cathy Houser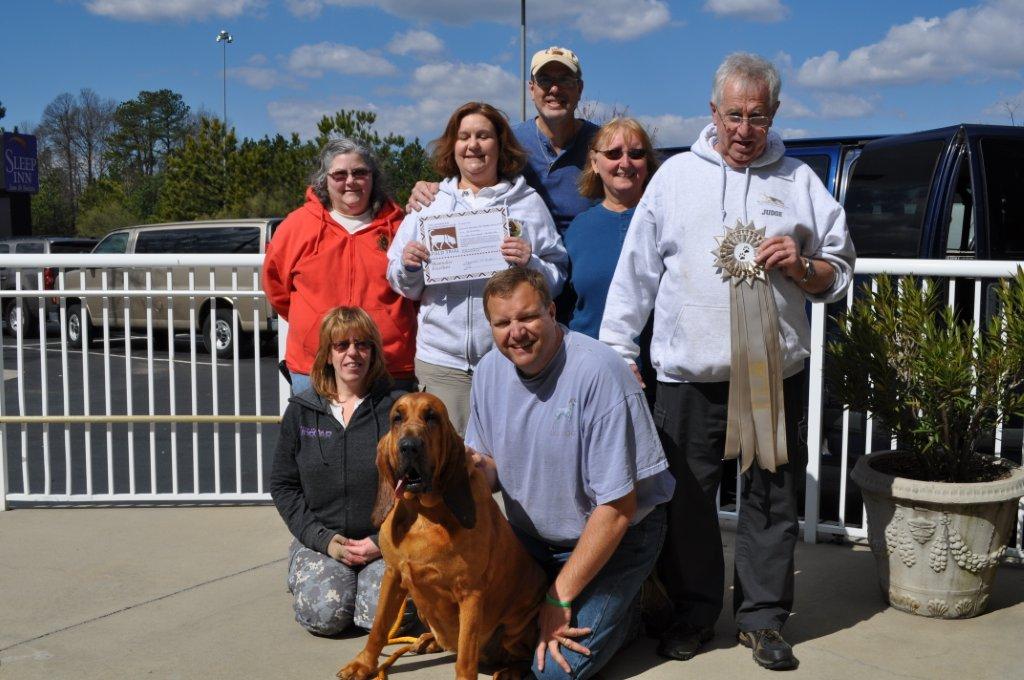 March 2012 – New MTX! Pictured with Michael her handler, Jerri Dean her runner, Lisa Kelly her cross runner, Janet Kelly & Jim Heck her judges, and her Mom & Dad John & Cathy Houser!
******** 2009 ABC National Specialty Best of Winners!!!********
Paisley was shown on a very limited basis, mainly as practice for the puppy girl before the upcoming 2009 ABC National Specialty. She had one impressive show record! At one of her very first shows she won the BBE class and went RWB to the major at the supported show the day before the Eastern – at 6 months old! In Asheville, NC at 8 months old she went BOW both days and picked up two of her majors. She did it again in Greensboro, NC several weeks later, when shown for only two days, picking up a third and FOURTH 3pt major! Just two days after her 1st birthday, Paisley won the 12-18 month class over 10 other bitches and went on to finish her championship at the ABC National Specialty going best of winners (!) with her FIFTH major (5pts)!
At the Southeastern Bloodhound Club's February 2010 trailing trial, Michael handled Paisley to her successful man-trailer title (MT). In May 2011, Michael and Paisley trailed their way to her man-trailer intermediate title (MTI). In March 2012, she and Michael pulled it off – the MTX! We are so proud of her!
Sadly, Paisley had to be spayed due to pyometra. She and her new owners, John & Cathy (and new "little" brother Beau) and will enjoy a life together full of love, happiness, some man-trailing along the way!