Wow – am I behind or what??
OK – so it's been since early September since I posted an update. So much has gone on b/t then and now! For starters, we had a red male singleton puppy, whom we named Later, born mid August. He is growing into a nice young man. We will need to get pictures posted of him soon. 5 days before Later was born, we were introduced to Brian Phelps, of Barefoot Labradors, b/c he had a singleton chocolate Lab puppy born, named Luke. Our repro vet put us together and I raised Later & Luke as brothers for the benefits of having a 'litter.' Luke just left yesterday … what fun it has been to raise these boys together and enjoy them! Enjoy this picture taken at 12/13wks of the two boys.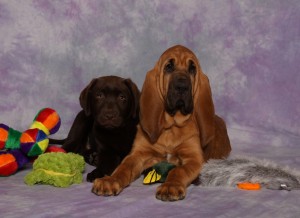 On another note, we recently attended our American Bloodhound Club's National specialty in Pine Mountain, GA. It was held at Callaway Gardens Resort.  What a week we had!! Congratulations to Fin on earning the only MTX offered at the trailing trial. Congratulations to Sunshine (Paisley & Later's mother) on earning her MT. Congratulations to Higgins on earning his MTI and to Price for earning his MT! Later in the week, we jumped into obedience. Fin qualified for his first leg in Beginner Novice obedience, as did Price. Price won first place in the class! Price also went on to earn first place in the Rally Novice A class and earning his first leg in Rally Novice. Fin, in Rally Advanced, decided he'd leave the ring, LOL! Ahh…Bloodhounds, gotta love 'em! Rally Advanced is all off-leash. We enjoyed the Parade of Honor with Fin dressed up as THE KING. Pictures to come of his awesome costume! At the puppy match, Later took best in match which was a surprise. Best of opposite of best in match was given to his cousin Caloo. It was a fun time. Even Luke, the Lab, got shown in the puppy match 🙂  Lastly, out of almost 50 champion specials in the best of breed ring, Nolan made it through the second cut. Not bad for a 7yr old fella who hadn't been in the show ring for over a year 🙂 All in all it was a memorable week and it was so fun visiting with friends and having fun with our dogs.
We brought home a souvenier from the Nationals. Planned way in advance, we decided to bring home "London" – Flessner's International Getaway for M&M. She was born at the first of September. She and Later have become fast friends and having two puppies is always easier than one 🙂 She is out of Rio & Harvey and looks to have a promising future if she holds together. I talked to Chris (her breeder) about this litter over a year ago and it's great to see it come to fruition. Thank you to them for allowing us to get her! Paisley and Fin have enjoyed her too.