M&M'S MONOPOLY'S LUXURY TAX, MT
Date of Birth: 09.22.18
Weight: 106lbs
OFA Health Info: click here
Sire: Bayside M&M's Spell Chaser ('Chase')
Dam: GCH. CH. McGuire's Queen of The Hop ('Bunny')
Owners: Molly & Michael Nye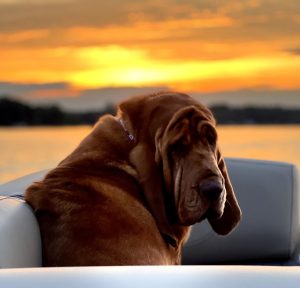 Gaines came out as a surprise for us from our Famous Board Games Litter! She is a red Bloodhound with liver pigment (a 'light skin red' or 'liver red' or 'liver nosed red') and we were not expecting this from a black/tan bred to a red (with black pigment aka 'dark skin red'). We did not realize that a very small percentage of breedings where both the black/tan and red (with black pigment) carry the liver/tan gene will produce this color combination. What a fun surprise!
From her 5wk stack onwards, we knew Gaines was meant to stay here with us at M&M. Not only is she beautiful, she's such a sweet girl. Her favorite thing to do in life is to play ball but is just as content to sleep on the couch right next to you. She is unlike a lot of females in that she is not remotely aloof. She wants to be glued to my side at all times. Her entire world revolves around me which is flattering.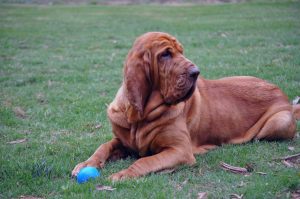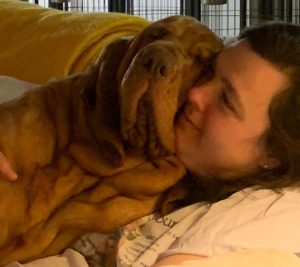 Gaines has only been entered into a couple of shows ever in her life. She was a young girl just getting started when Covid hit. On the other side of the pandemic, she did not exhibit a lot of desire to be in the show ring and so we decided that we would respect that and not make her do something she doesn't enjoy. The first show she was entered in was the 2019 American Bloodhound Club National Specialty which was a big show. The sweepstakes entry had 40 dogs and Gaines won Grand Sweepstakes Winner, the whole thing! She was only 14 months old.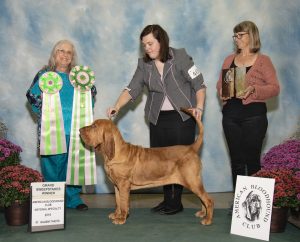 Pictured at 14 months old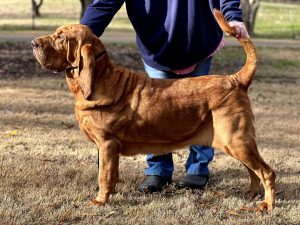 Pictured at 4 years old
Though showing isn't her thing, Gaines' true love in life is being a mother. To date, she has been the most attentive, easy going, happy, loving mother. She whelped her litters so easily, a true natural. We are so blessed to have her and her beautiful offspring!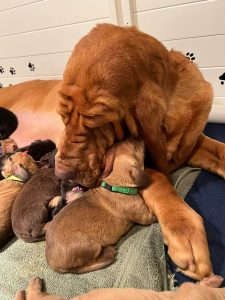 Gaines also enjoys mantrailing and does a really good job at it! She's a nice compact, normal size girl, and easy to read and work.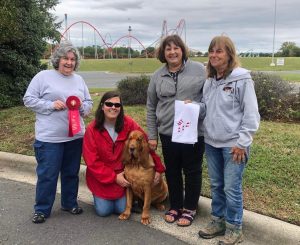 One of our favorite things to do with Gaines is to take her out on the boat to the lake. She really relaxes and enjoys the rides. One of my favorite memories ever with any of our dogs is the day we got her to get in the water off the back of the boat. She was unsure of it but trusted me that she would be okay and she got in! Such a fun, happy memory of this extra special girl.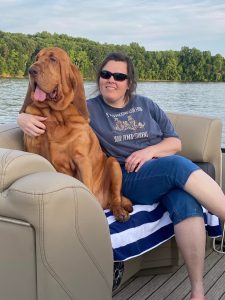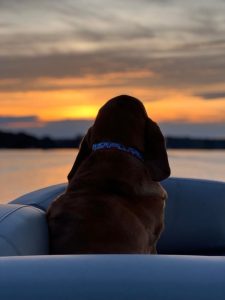 Gaines is a delight and we are so happy she is such a part of our lives!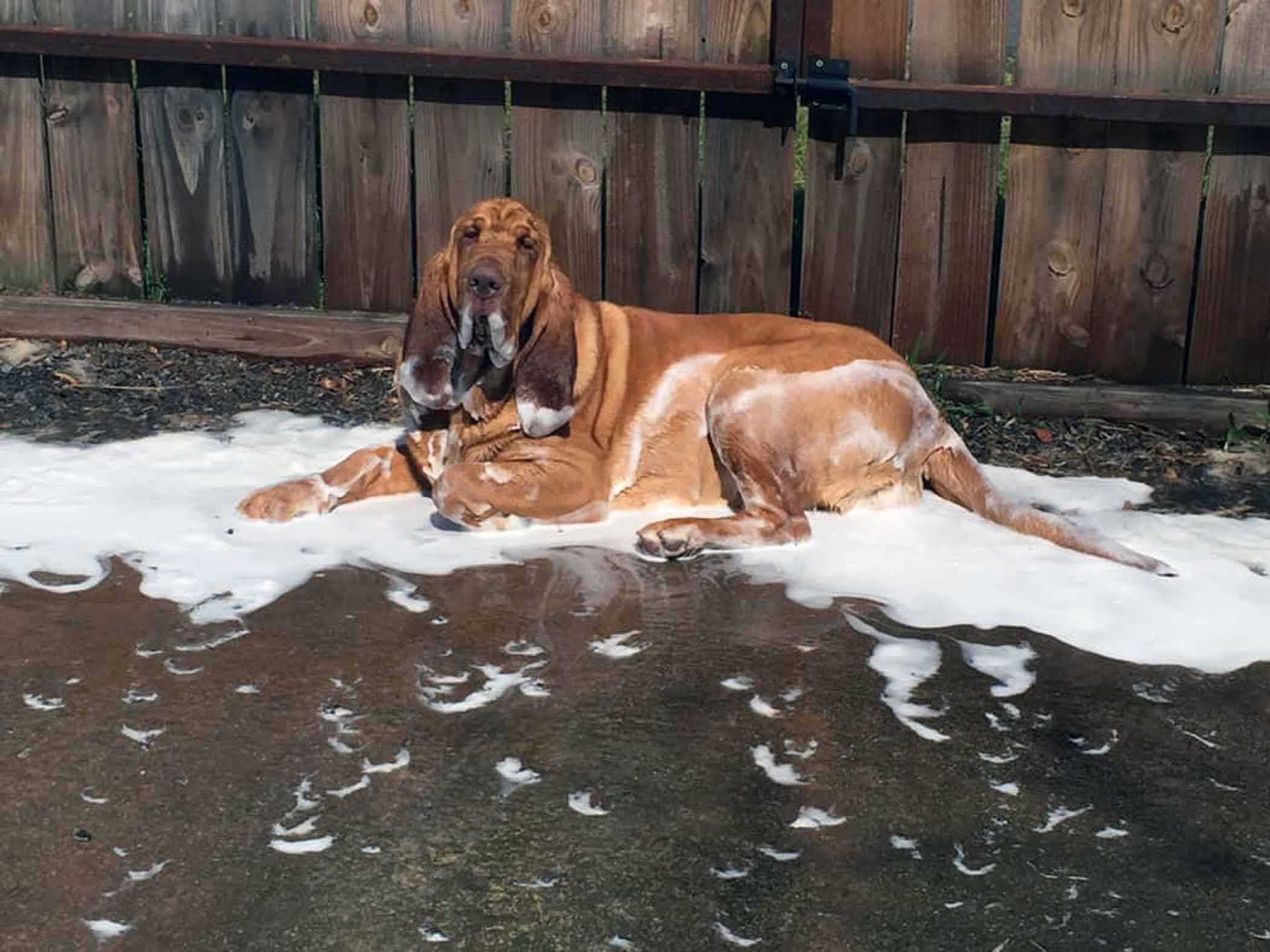 While waiting her turn for her bath, lol!