M&M'S BEAUTIFUL LITTLE FAIRYTALE, MTI, CGC, CGCA, TKN, ATT
Date of Birth: 11.07.20
Weight: 98lbs
OFA Info: click here
Sire: CH. M&M's Takin' The Highland Trail N My Jeep Gladiator ('Ladd')
Dam: CH. M&M's Night At The Circus ('Lila')
Breeders: Molly & Michael Nye
Owners: Molly & Michael Nye
I wrote this on a Facebook post after Thumbelina was born:
"I only met her last weekend for the first time and yet in a matter of minutes she became so well loved. My sweet mom dubbed her 'Thumbelina' … from a fairy tale written by Hans Christian Anderson in 1835 and it's very fitting.
Thumbelina was only 6.5 ounces (!) at birth (normal Bloodhound birth weight ranges 18-20oz) and she felt like a hamster. So tee, teeee tiny and fragile, yet so hearty and willing to live! In one week's time she has more than doubled her birth weight and is doing well so far. She can now wear a collar like the rest of the bunch!"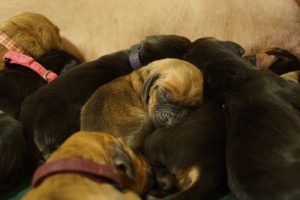 Enjoy with us Sweet 'lil 'Thumbelina.'
"…There was once a woman who wished very much to have a little child, but she could not obtain her wish. At last she went to a fairy, and said, "I should so very much like to have a little child; can you tell me where I can find one?"
"Oh, that can be easily managed," said the fairy. "Here is a barleycorn of a different kind to those which grow in the farmer's fields, and which the chickens eat; put it into a flower-pot, and see what will happen." "Thank you," said the woman, and she gave the fairy twelve shillings, which was the price of the barleycorn. Then she went home and planted it, and immediately there grew up a large handsome flower, something like a tulip in appearance, but with its leaves tightly closed as if it were still a bud. "It is a beautiful flower," said the woman, and she kissed the red and golden-colored leaves, and while she did so the flower opened, and she could see that it was a real tulip. Within the flower, upon the green velvet stamens, sat a very delicate and graceful little maiden. She was scarcely half as long as a thumb, and they gave her the name of "Thumbelina," or Tiny, because she was so small."
In May of 2020, I lost my first heart dog, Fin. He lived a long, happy and healthy life and if love could have saved him he would have lived forever. When it was time to say goodbye to Fin, I knew my life would never be the same. I was learning to live life without him, though difficult, and holding on to all the good memories. In November of 2020, the blessing of Thumbelina was born into my life and I will die knowing that Fin lives on in her heart. There are too many similarities, too many of the unique things that he did that she now does, too much of the look he had, etc. for him not to. He was her cousin. In May of 2022, I lost my second heart dog, Little Bit. Though Little Bit was older, it was unexpected right at that time and extremely difficult for me to work through. In between these two losses, Thumbelina was a gift given to me to help me through these major losses and I'm forever and ever grateful for it!
Thumbelina is not only beautiful, she is so intelligent. She is easily trainable and catches onto to anything I ask of her so fast. Michael even says it's like she understands conversation you have with her. She is half way to her AKC champion title and was awarded Grand Sweepstakes twice in her short show career – the most recent was the 2022 American Bloodhound Club's National Specialty! She earned her AKC Canine Good Citizen title, her AKC Canine Good Citizen Community title, and AKC Novice Trick Dog title there as well!
Thumbelina is one of a kind. She is the sweetheart everyone wants to meet. Her eyes and face draw you to her and once you're there, she envelops you with a spell of love. She is a show dog, a mantrailing dog and a therapy dog. Most of all, she is my dog and because she was a gift to me, I want to share this gift with others.
The thing we are most proud of with Thumbelina is her uncanny ability to connect with the hearts of others. She has recently become a visiting therapy dog and I think I leave these visits with a more full heart than those we've visited!
Thumbelina 2yrs old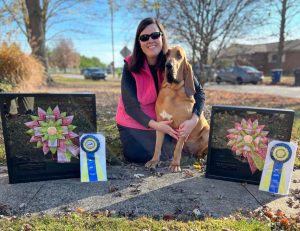 Thumbelina November 2022 – new AKC CGC, CGCA, TKN – and ABC National Grand Sweepstakes Winner!
Thumbelina on her way to winning Grand Sweepstakes at the American Bloodhound Club's National Specialty – 23 months old